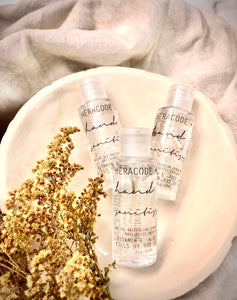 //Native Australian Lemon Myrtle scented Hand Sanitiser 
Keep nasty germs at bay with our quick-drying, moisturising alcohol-based formula. 
Our blend of Hand Sanitisers is formulated using premium quality ingredients, it has the added benefits of Native Australian Lemon Myrtle oil. Known for its antiseptic/ antibacterial properties - together with 70% alcohol it is proven to kill 99.99% of germs. 
 Ingredients
70% Alcohol, Native Australian Lemon Myrtle essential oil, Aloe Vera Gel, Glycerine, Carbomer,tert-Butanol, tocopherols
Quick-drying - with added moisturising properties of  Vitamin E and Aloe Vera 

60ml TRAVEL SIZE - the perfect size for on the go.